Celebrating the Legacy of Horizons National Founder Lyn McNaught
Posted on
The Horizons Network mourns the passing of Lyn McNaught, a lifelong champion of equity in education and an original founder of Horizons National. Lyn served Horizons in a number of ways up until her passing last week.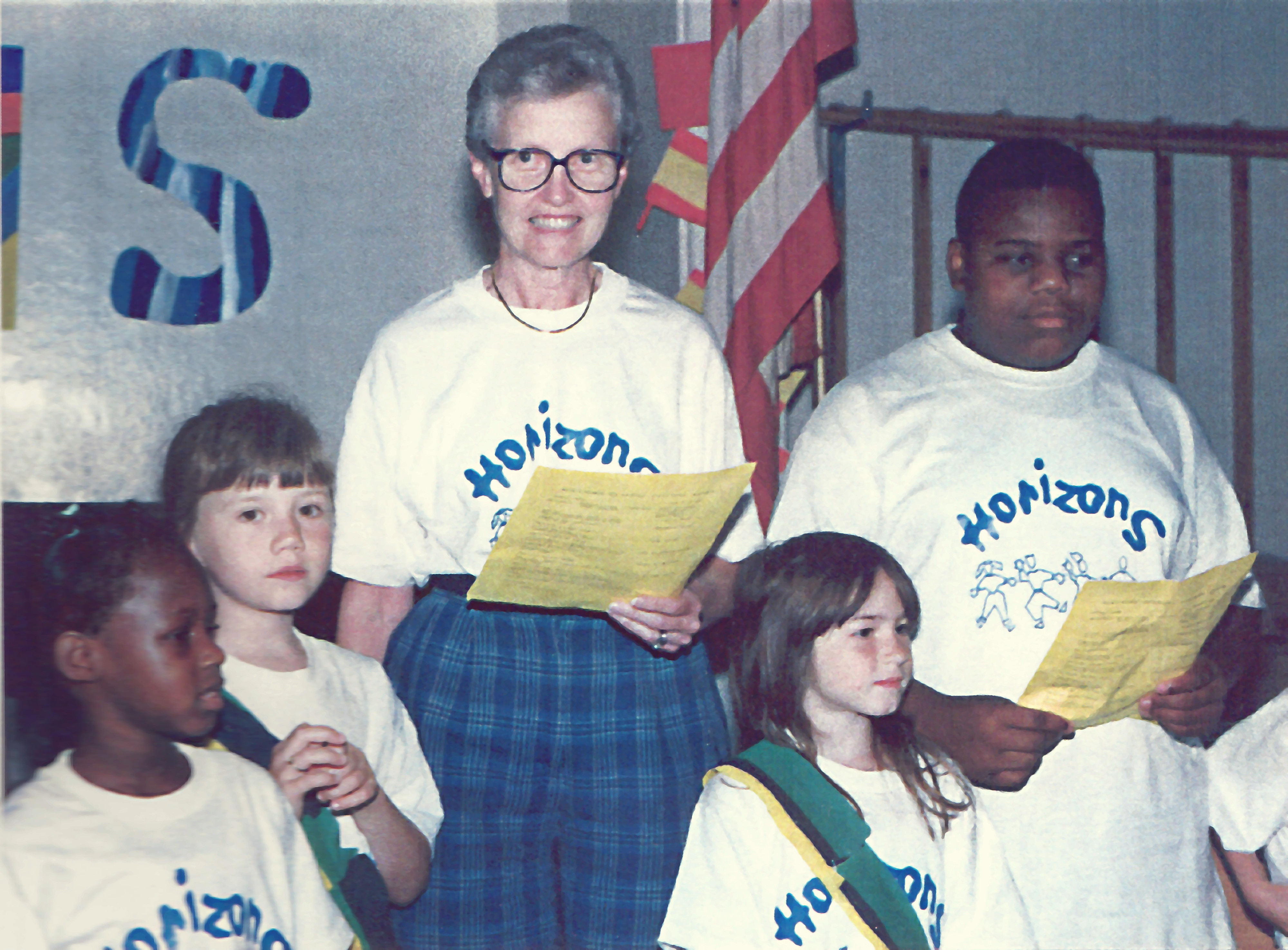 Lyn was involved with Horizons at New Canaan Country School and Horizons National for more than 35 years. When Horizons National (HN) was established in 1995 to help bring Horizons to more students, Lyn served as the founding Executive Director, and was also a dedicated member of the Horizons National Board of Directors for nearly three decades.
Lyn joined Horizons at New Canaan Country School in 1978, when the program was the only one of its kind serving students from surrounding public schools for six weeks during the summer. During her 26 years as Executive Director, Lyn saw over 2,000 students go through the program. Lyn and her small, dedicated staff spent many hours throughout the year in preparation for the Horizons program, hiring teaching staff members, organizing the morning academic programs, promoting afternoon athletic activities, and planning field trips. Because she believed that every child could benefit and grow in confidence by learning how to swim, Lyn was insistent on providing swimming lessons for every Horizons student, and asked local residents to donate their pools for students' use.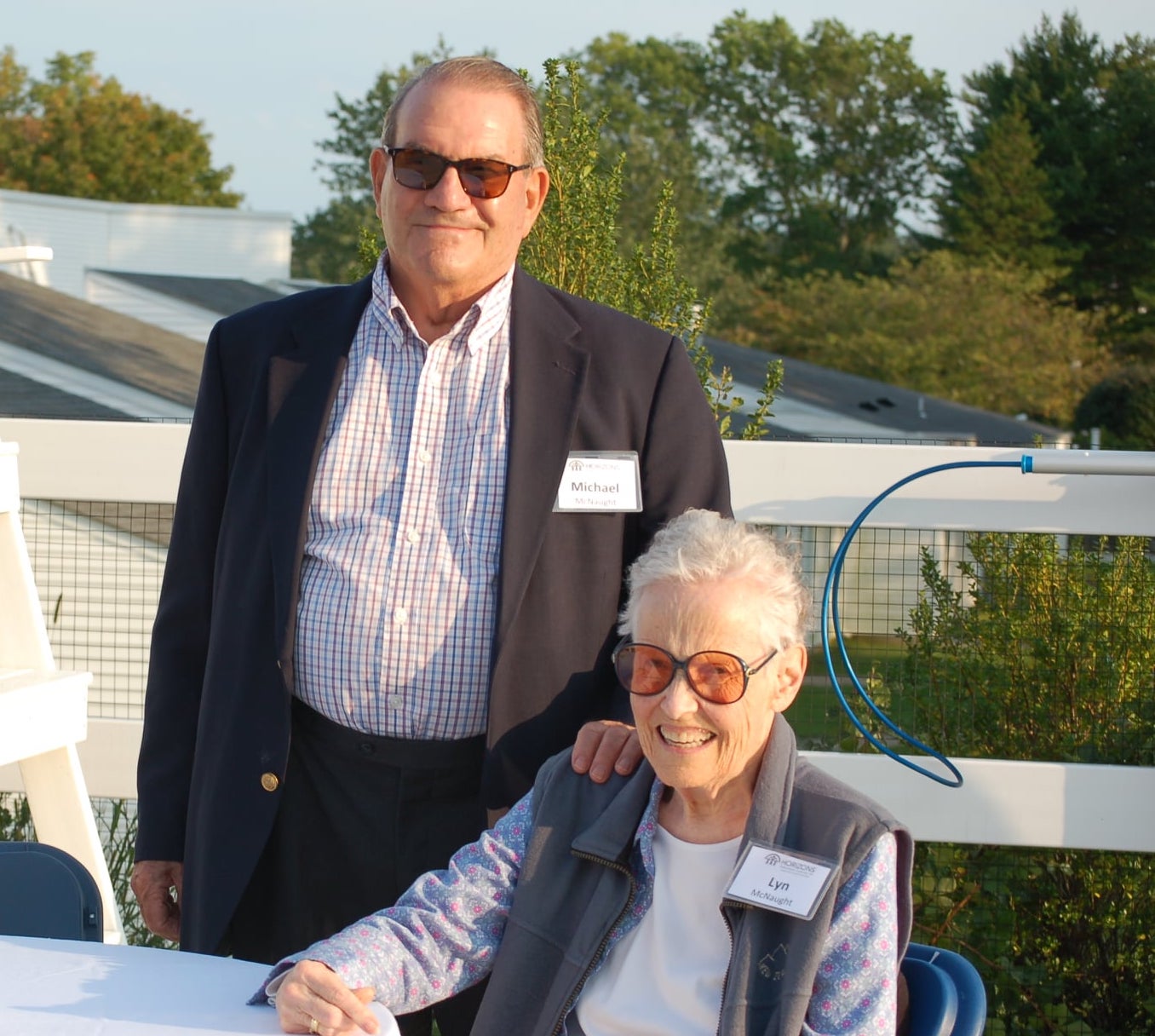 Soon, Lyn raised the funds to build an on-campus swimming pool so that students could have swimming lessons in the mornings as well as the afternoons - a true example of Lyn's determination and belief in the power of opportunity. Upon her retirement, the pool, which had been called the Horizons Pool, was renamed the McNaught Pool to honor Lyn and her husband, Michael, who had long taken care of the pool.

< Lyn and Michael at the McNaught Pool in 2021
In 1995, Lyn and a group of Horizons champions founded Horizons National, with the goal of expanding the successful program model to new communities. Lyn served as the Executive Director of HN until her retirement in 2004, helping create new partnerships with schools and community members to bring more learning opportunities to as many students as possible. Lyn also served on the Horizons National Board of Directors, established in 1995 to contribute to organizational strategic and financial priorities. By the time Lyn retired from her Executive Director role in 2004, Horizons programs had expanded to 11 new communities - all of whom are now celebrating decades-long program anniversaries with their teachers and graduates.
Lyn remained a member of the Horizons National Board of Directors until her passing, regularly attending Board meetings and Horizons Annual Conferences - a total of 27 conferences! - to share stories and her deep commitment to education. Lyn truly loved Horizons, and her voice always brought the discussion back to what mattered most: Horizons students and families. Lyn was also a tireless champion of teachers, and she reminded us that they are the heart of Horizons – a passion that resulted in the creation of the annual Lyn McNaught Teacher Awards, honoring educators in the Horizons Network who provide exemplary learning opportunities for students.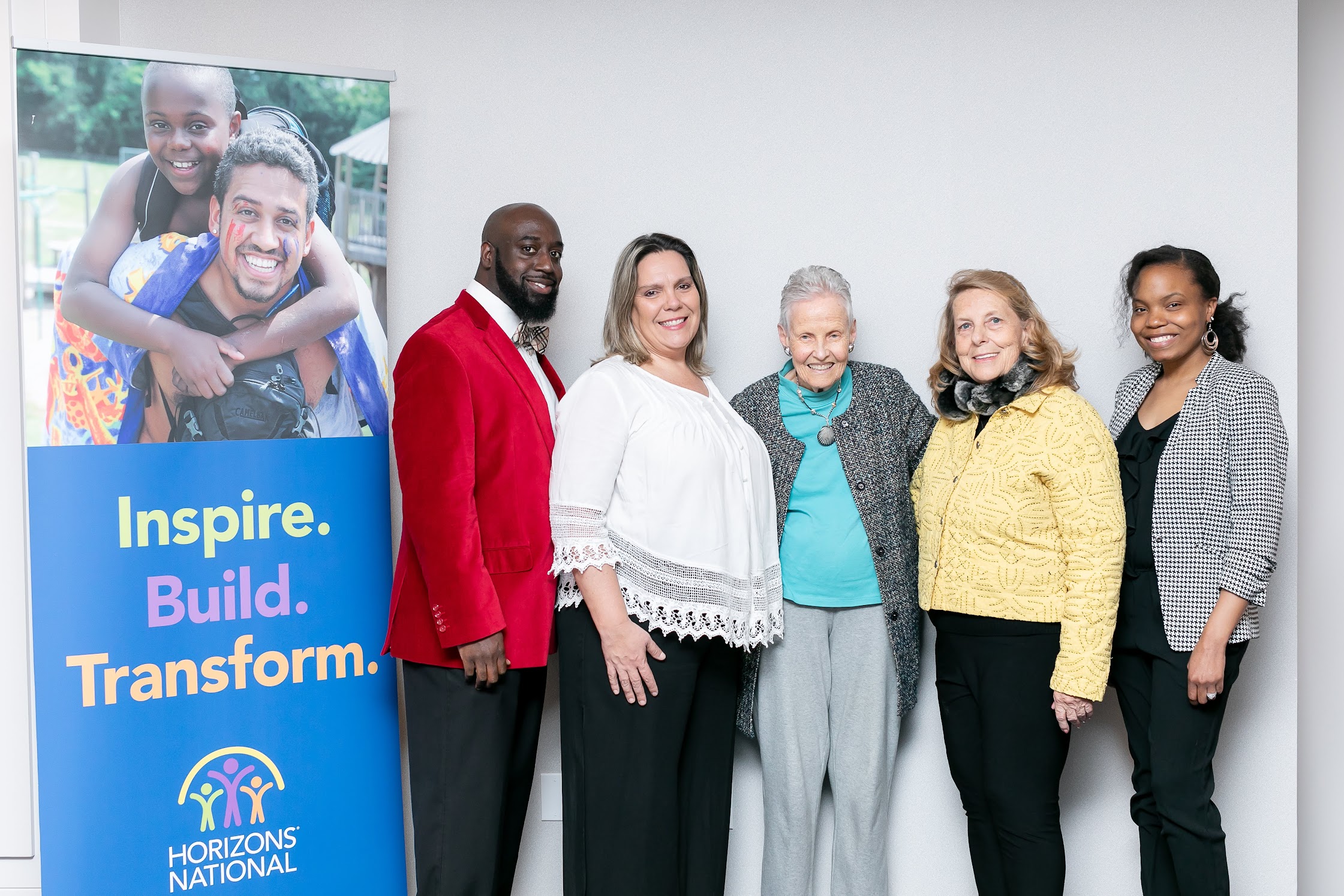 Lyn with the winners of the 2020 Lyn McNaught Teacher Award
Since expansion began in 1995, the Horizons Network has grown to reach students at 74 sites in 20 states, and programs have expanded to include year-round and family engagement, high school programming, reunions and celebrations, alumni involvement, and of course, swimming lessons. Horizons National has expanded as well, with a growing team of staff to continue providing centralized services to support our current affiliates, while also expanding Horizons programs each year to reach more students and families. Because of Lyn's work as the Executive Director of Horizons at New Canaan Country School, and the founding Executive Director of Horizons National, Horizons' program model continues to thrive and provide opportunities for young people across the country to learn and grow.
We will miss Lyn's bright smile and loving greetings, and her fierce determination to support education for all children. We look forward to keeping her spirit alive by annually recognizing outstanding educators in her name, and celebrating her memory during our Horizons Annual Conference. We think that this quote from Lyn, spoken when she was awarded the 2007 Choate Rosemary School's Distinguished Alumnae Award, perfectly captures her spirit:
My message for us all today is to find your gifts and passions—whatever they may be—and to pursue them relentlessly. Take your gifts and passions and find the life's work which puts them to good use for you, for your family, but most importantly for others, because at the end of the day that is what is most important. Be open to new opportunities all along life's journey, because they expand your horizons and add new dimensions to your life. We are all somewhat me-centered in our contemporary culture, but as I sit and look out over Vineyard Sound on a sunny spring afternoon and ruminate about my life, I always think about my family, and then I circle right back to Horizons and all those wonderful kids, and the small part I have played in helping them move forward with their lives.
If you would like to view Lyn's obituary, please follow this link.

Back to Blog
---