The Horizons Network in 2022
Posted on
2022 was full of joy at Horizons! This summer, with 100% of programs (74 sites!) back in-person, and back to favorite activities like field trips and swimming, students were busy learning, exploring, and building community.
Check out this snapshot of Summer 2022 across the Horizons Network, and testimonies from Horizons student, staff, and family surveys: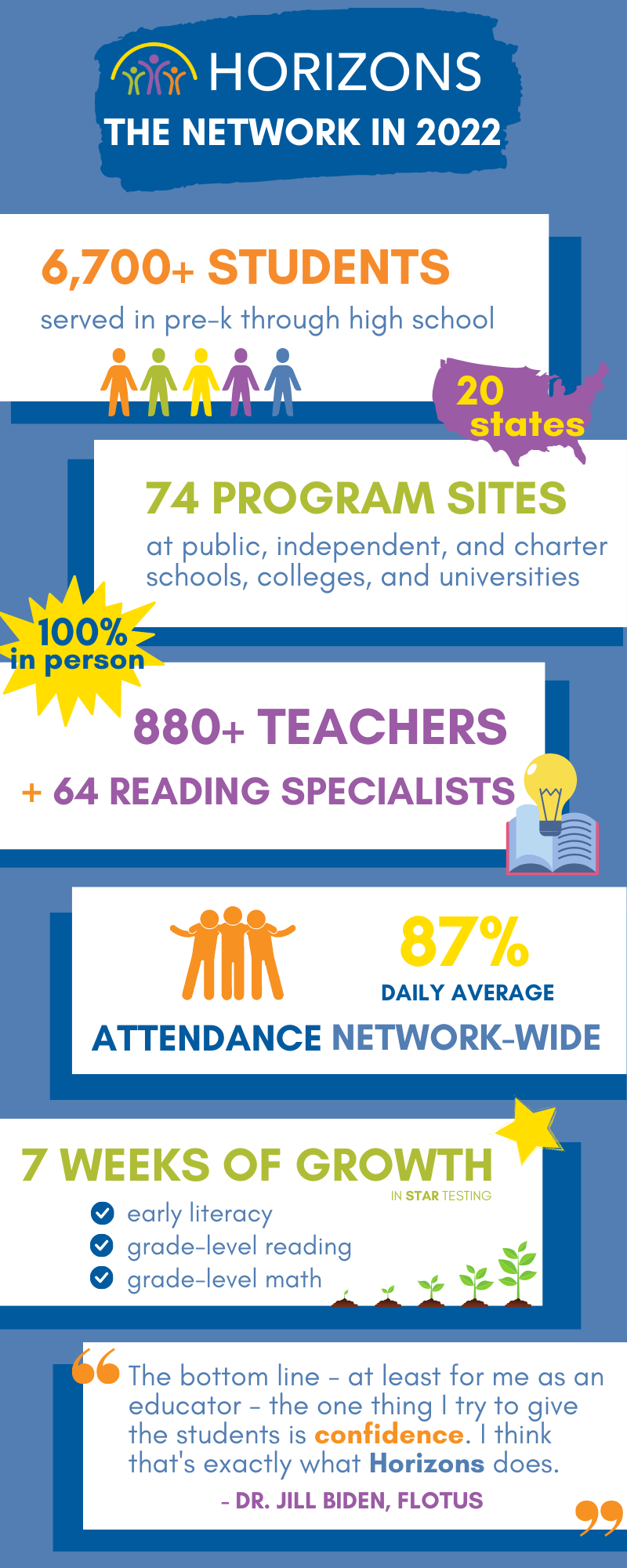 "I love Horizons at Francis Parker for my son. He always felt loved and important there. He also is always excited to tell me about his days and his teachers and his friends. He LOVES to swim and your program has made him and myself feel safe with his swimming skills. Also, we have a keyboard at home and now he actually practices what he learned with you. Thank you so much. I wish all my kids had gotten this opportunity!"
- Family member, Horizons at Francis Parker School (CA)
"[I value] that I got to connect with more kids outside of my living area and outside of just school, and getting to know many more career choices that are possible for me."
- 7th grade student, Horizons Hampton Roads (VA)
"Seeing academic growth over the summer, in addition to growth in students' confidence, motivates me to work harder, to ensure all students feel confident within and outside the classroom."
- Assistant Teacher, Horizons at the Episcopal Academy (PA)
"What I most value about this experience with Horizons is that it helped me keep my confidence when things were hard and it helped me get ready for the upcoming year."
- 8th grade student, Horizons of Kent & Queen Anne's (MD)
"I noticed a big difference in my son's performance this summer. His reading and writing are at a much better place and I'm less nervous about him moving into the next grade level than I was at the end of school. (He's also less nervous about it, too.) I loved that the Horizons program was smaller and that the teachers had more one on one time with him. I loved that the program felt fun - like a summer camp! - and that he looked forward to going each day. He loved eating in the UGA dining hall, which was very fun for him. Thank you, thank you!"
- Family member, Horizons Atlanta at the University of Georgia (GA)

As the Horizons Network grows, the reach and impact of equitable learning opportunities increases for students and families nationwide. We look forward to welcoming more students, families, schools, and communities to the Horizons Network in 2023!
Donate today to support Horizons' growth!
Back to Blog
---