Horizons Students Design Winning Face Masks to Raise Money for Horizons
Posted on
So many things looked different this summer -- even our students' faces! Face masks have become part of our everyday lives, and are critical to keeping our communities safe. But that doesn't mean they have to be boring!
Horizons teamed with supermodel Karolina Kurkova and fashion company Billie Blooms to launch a new Back to School mask collection featuring unique designs hand-drawn by Horizons students. All proceeds from the Billie Blooms + Horizons Back to School mask collection benefit Horizons and help us continue to support students and families as we all navigate the back-to-school season.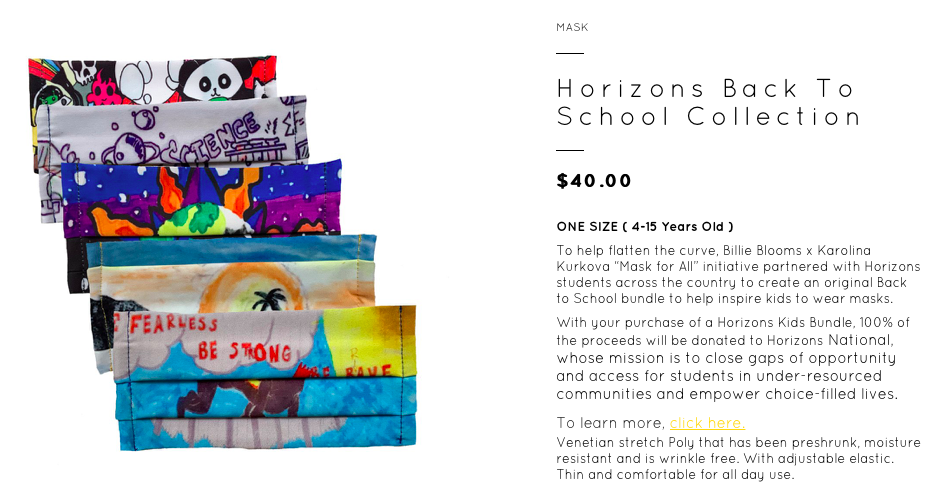 Through #HorizonsAtHome2020 programming, students competed to design the masks. The winning designs were chosen from student submissions across the country and highlight the creativity of hard-working, committed students, even while they navigate the unprecedented impacts and inequities of COVID-19.
The campaign is part of Karolina Kurkova x Billie Blooms, a collaboration under the #MasksForAll movement that makes some of the safest masks for the whole family.
The Winners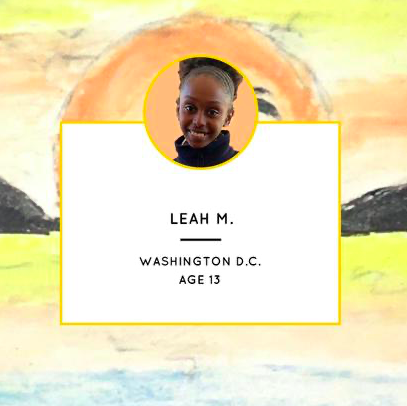 "The theme was back to school so I decided to do a sunset and my question I chose was 'What makes you feel proud?' I chose a sunset because to me that represents all the work I've done. I say this because when I do work I feel proud of it and I know it will go to a good cause meaning whatever I do now will come back to me later." - Leah M.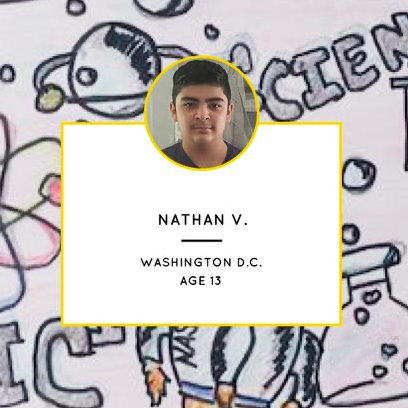 "My favorite subject is Science because it helps me understand about the world around us and science can help us find cures for different situations and history. Learning about science makes me happy." - Nathan V.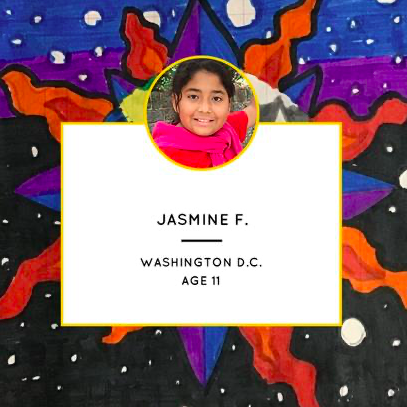 "My mask design is the Yin Yang. It is one of the many things that make me happy. The Yin Yang represents the positive and the negative. This inspired me because my life is like a rollercoaster; it has its ups and downs. Despite the challenges I encounter, I believe we shouldn't let the negative things get the best of us." - Jasmine F.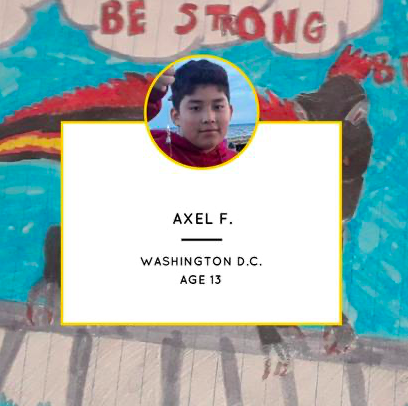 "The inspiration for both of my masks can be traced back to Science class. I remember one time, we were assigned to create 2 dinosaurs; one of the dinosaurs I drew was made by the genetic fusion of a Tyrann-osaurus Rex and a Velociraptor which created the Indominus Rex, and the other dinosaur was made with the Indominus Rex and more genetics of the Velociraptor. My mask portrays those dinosaurs." - Axel F.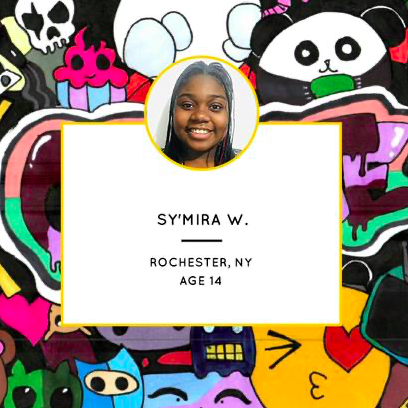 "The design I created was based off of my feelings and emotions. The characters depicted things like hunger, happiness, anger, sadness and sleepiness. The big bang word was "create" which made me think of the word creative. Creative is what I like to be and it motivates me to push towards my goal of being a graphic designer. Overall there were many thoughts and a lot of time that went into this design. This is a collage of my thoughts and creative process. I loved every minute of creating it!" - Sy'Mira W.
Congratulations to all of our contest winners and runners-up! Head to www.billieblooms.com to buy your own unique Horizons student-designed Back-to-School bundle!
---