Highlights from the Horizons National Annual Conference
Posted on
One of the most powerful things about the Horizons Network is the community of leaders who thrive by supporting each other. That is why one of the most important things we do at Horizons National is convening Network staff and Board members - through monthly calls, Communities of Practice, and at our Annual Conference & Meeting. This year's conference, held in Albuquerque, NM in partnership with Horizons Albuquerque, included opportunities for professional development (PD), networking, peer-to-peer learning, and celebrating the extraordinary leaders across the Horizons Network.
Check out some of the highlights and learn about the 2023 Award Winners below!
145 participants

attended

19 PD workshop sessions

including:

Fundraising Through Storytelling

Creating a Sense of Belonging, Community, and Empathy

Youth Planning, Choice, and Reflection

Recruiting, Supporting, and Retaining Your Key Players - Horizons Summer Staff

Building a Solidarity-Driven Family Engagement Practice

28 new Directors and Board members

attended the

Onboarding Institute

to learn about Horizons' program delivery, fundraising, organizational health, and more

Horizons Albuquerque

students helped us kick off the conference at our opening luncheon and

performed two incredible songs

!
---
Notes from our conference attendees...
"
I truly enjoyed my first Horizons Conference experience.
Every single attendee was welcoming and friendly, and it was amazing to brainstorm and brain dump with fellow Horizons advocates. I loved it. The sessions were helpful and interesting, the timing of sessions was great, and the group meals were lovely."
- Horizons Affiliate Board Member
"I had such a wonderful overall experience at this conference as I usually do.
I left feeling energized and recharged
."
- Horizons Director
"I am a Lead Teacher and I don't normally attend the annual conference.
It gave me a level of knowledge and understanding that I did not have prior to the conference
. I found each presentation was thought-provoking and I left with things to ponder and ideas to use."
- Horizons Lead Teacher

"This conference was exactly what I was looking for as PD and a boost before the summer."
- Horizons Director
---
Lyn McNaught Teacher Award Luncheon
The Lyn McNaught Teacher Award, named for the founding Executive Director of Horizons National, recognizes teachers who have excelled in Horizons classrooms by providing exemplary opportunities for young people. This year, we are proud to honor 4 outstanding educators - learn more about them here!
Matt Azzaro, middle/high school teacher, Horizons Greater Washington (D.C.)
Erin Doyle, Curriculum Consultant, Horizons at Westminster School (CT)
Crystal Meashey, 6th grade teacher, Horizons at Lancaster Country Day School (PA)
Mary O'Shea, kindergarten teacher, Horizons Atlanta at Georgia Tech (GA)
This year, we honored the life and legacy of Lyn McNaught, a lifelong champion of equity in education. Lyn served Horizons in a number of ways, including being an active member of the Horizons National Board, until her passing last year. At the luncheon, we honored her work and announced the Lyn McNaught Legacy Fund, which will support one of Lyn's greatest passions - teachers. Learn more about this fund here.
---
Horizons Leadership Awards
The Horizons Leadership Award recognizes an Executive or Site Director who contributes on both a local and national level, embodying the spirit of Horizons. We are honored to recognize two talented Executive Directors: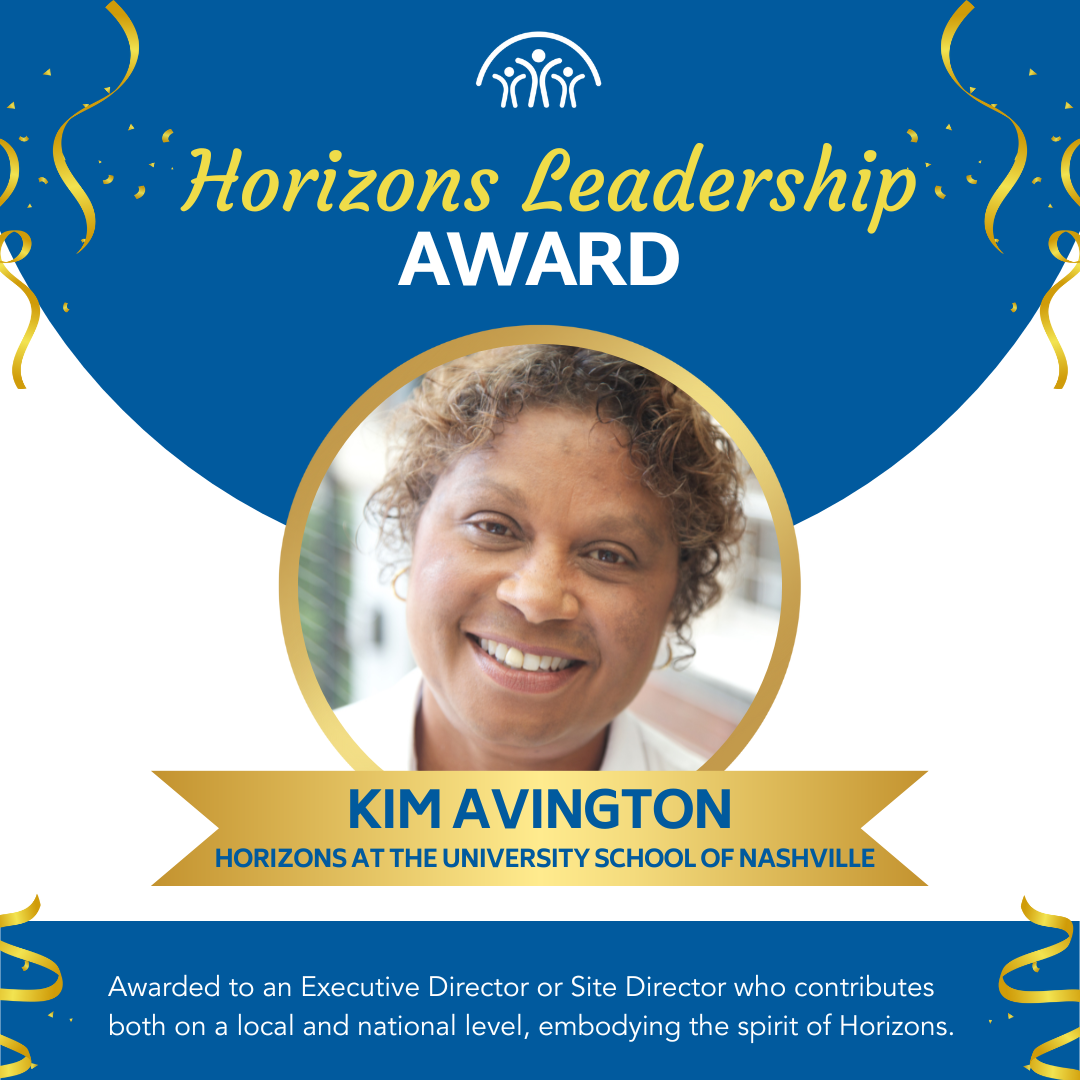 Kim Avington, Executive Director, Horizons at the University School of Nashville!
"Kim began as a founding member of Horizons at USN in 2014. She consistently supports the Network on program planning calls, and is a veteran voice of insight for new Directors. Kim is probably best known for creating a space where her staff can be the best versions of themselves, allowing the program to thrive and students to excel.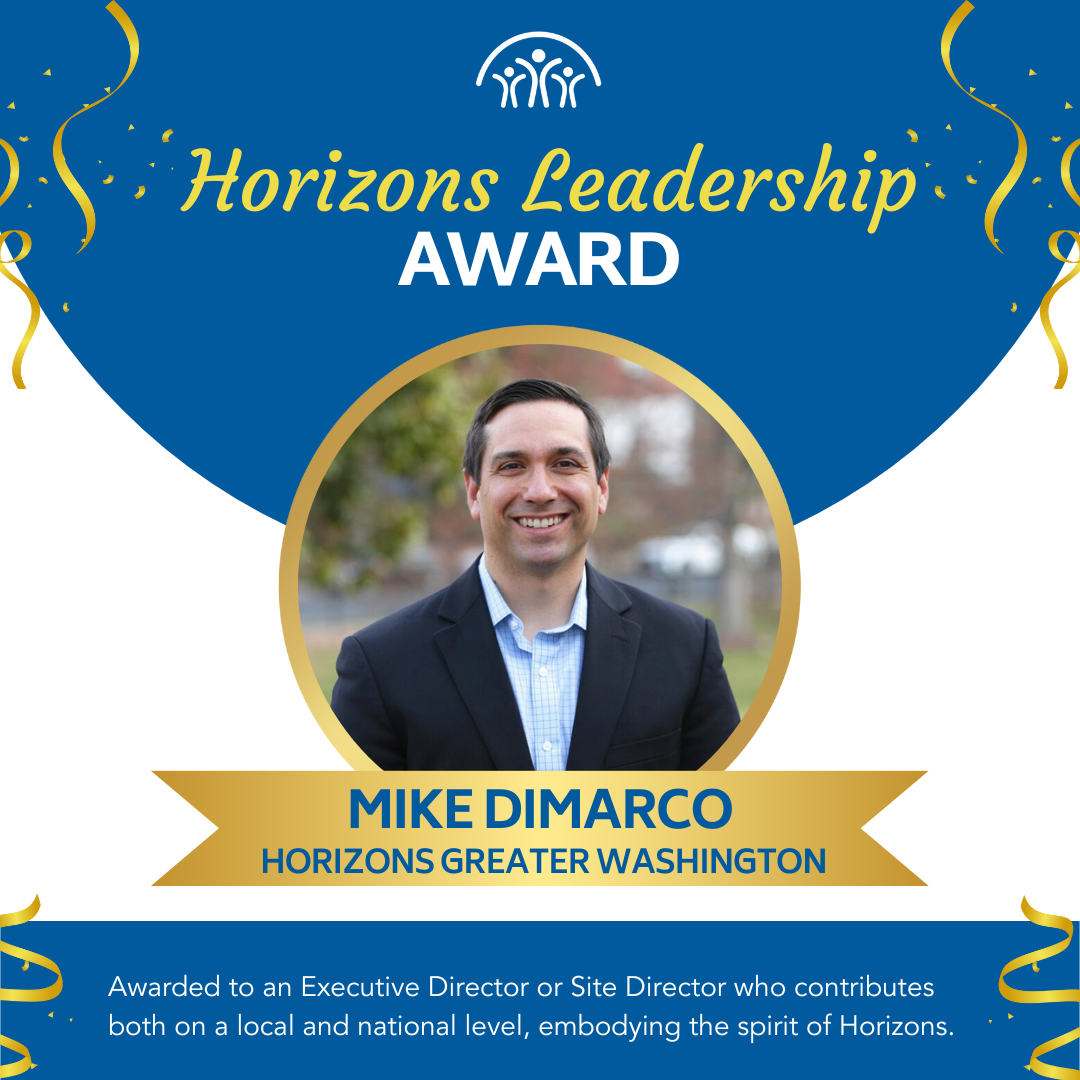 Mike Di Marco, Executive Director, Horizons Greater Washington!
"Mike started with HGW in 2020, jumping into a new role at the height of a pandemic and leading 3 sites to a successful virtual summer. Mike has been a strong Network contributor by participating in working groups, presenting at conferences, and sharing thoughtful, constructive feedback. He continues to expand HGW with new opportunities and partnerships."
---
Andrew Clarkson Award
Established in 2016 and given in the spirit of its namesake, this award honors an individual for their longevity of commitment, embodiment of the Horizons mission, and work that can be leveraged across the entire Network.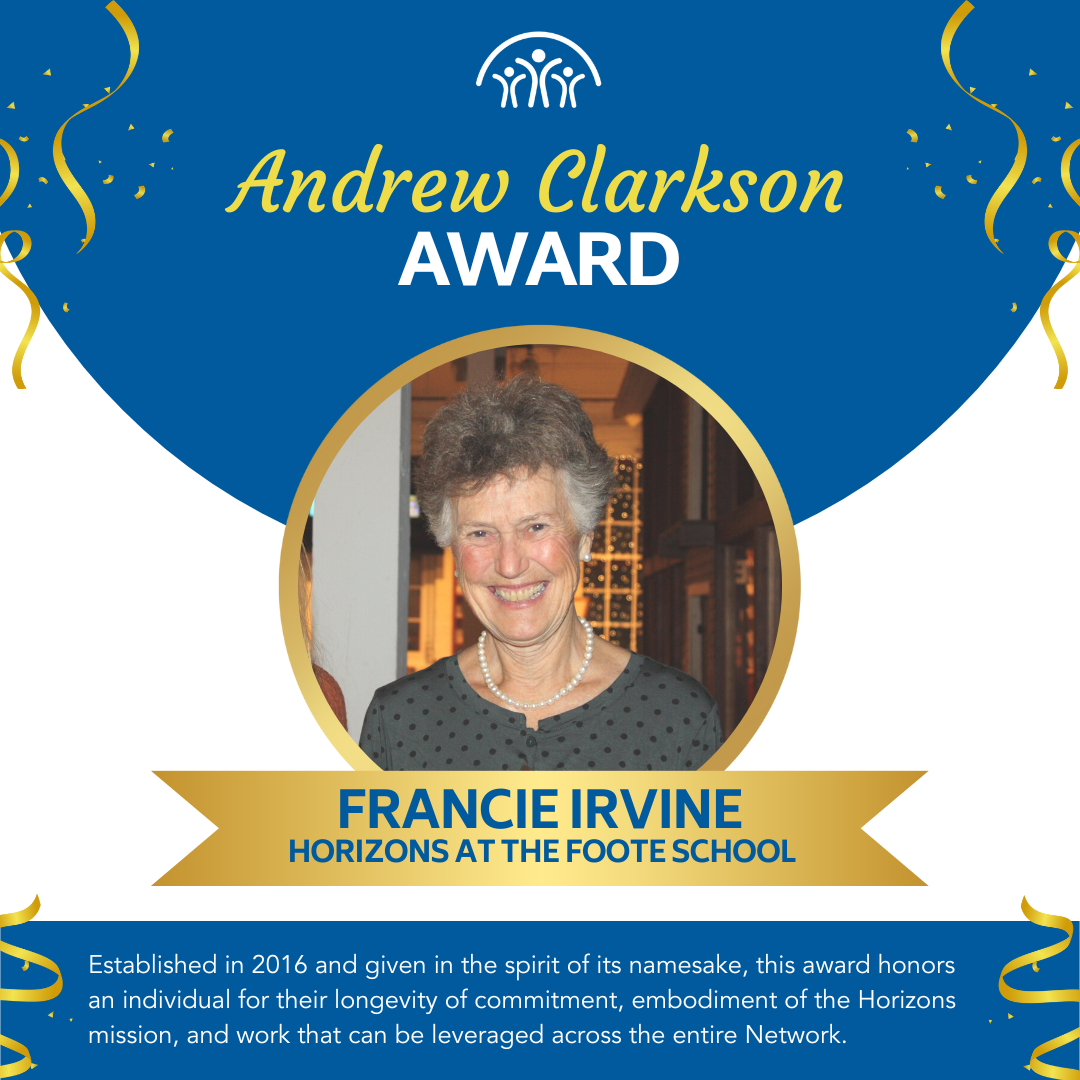 We are honored to present the 2023 Andrew Clarkson Award to Francie Irvine, Board Chair, Horizons at the Foote School! A dedicated member of the Horizons Network for over 10 years, Francie is known for her creativity and thoughtfulness, her bright smile, and for consistently stepping up to support the Horizons community.
---
Horizons Spark Award
This Award recognizes those who contribute in extraordinary and sometimes unexpected ways to the Horizons Network. This year, we're proud to present the Spark Award to the Horizons Albuquerque founding team of Billy Handmaker, Neal Piltch, Nancy Klion, and Juaquin Moya!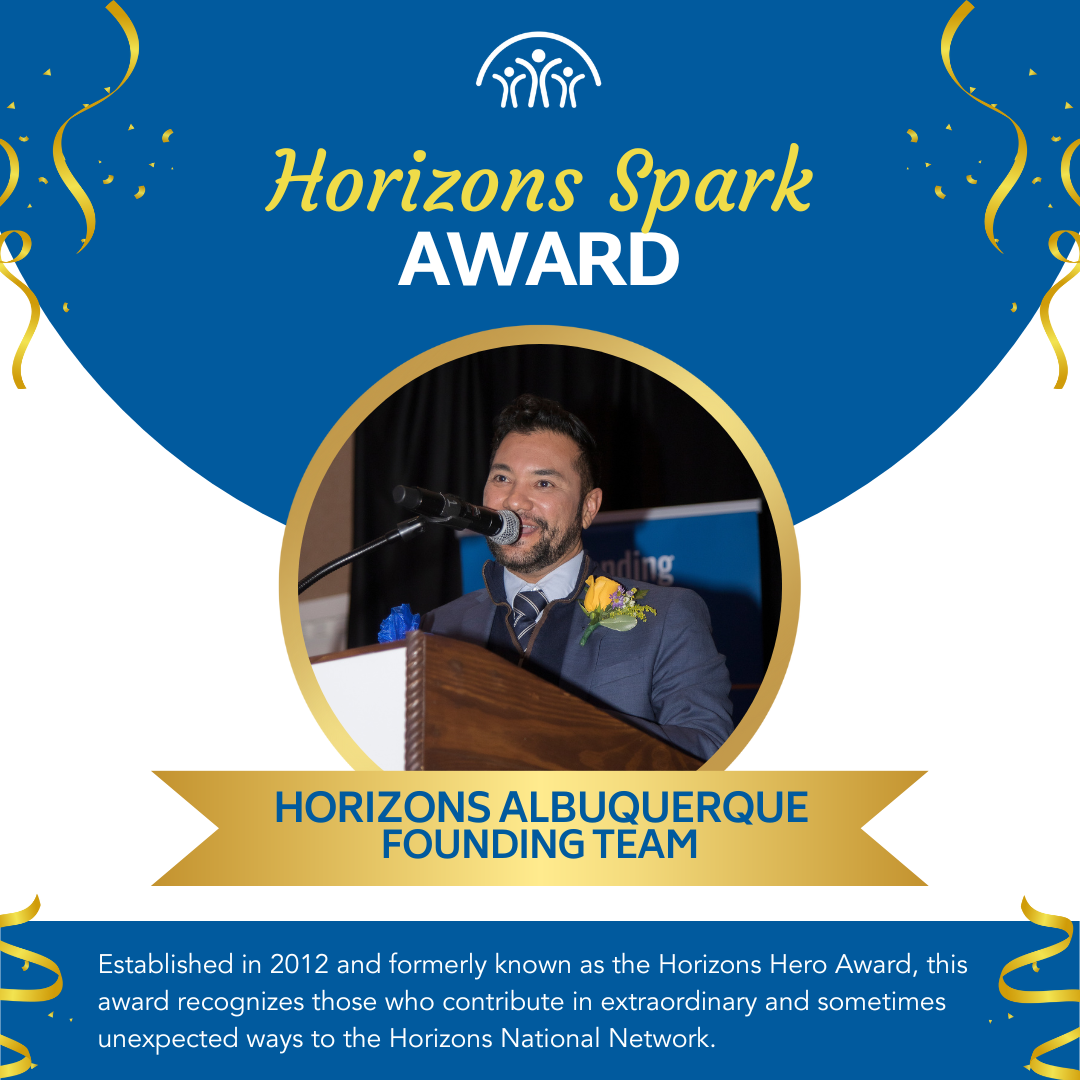 Billy Handmaker from the Bosque School, Neal Piltch from Manzano Day School, founding Board Chair Nancy Klion, and founding Executive Director Juaquin Moya ambitiously launched the Horizons Albuquerque program, a dynamic collaboration between 3 schools that has grown to be an example of community. Collectively, they have participated in Network workshops and presentations, contributed as HN Board representatives, and connected Horizons to new schools, investors, and partners.
Click here to view photos from our Annual Dinner and Awards Ceremony!
Congratulations to all of our 2023 Award winners, and THANK YOU to the many members of the Horizons community who made the trip to Albuquerque, NM to join us for the Horizons National Annual Conference!
Back to Blog
---