Horizons: Where Mentoring Thrives
Posted on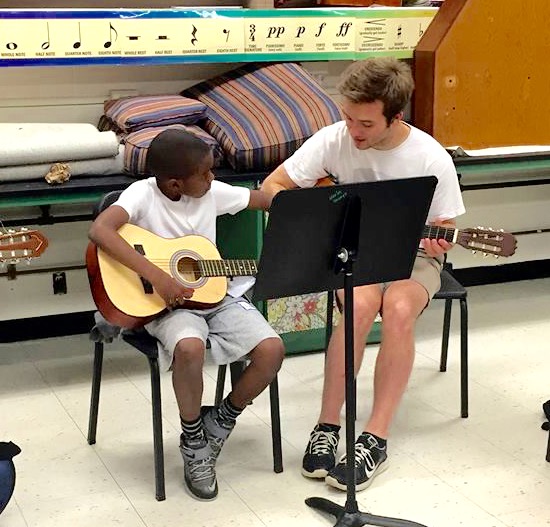 Everyone understands the value of a good mentoring relationship, for both mentor and mentee, but not everyone is quite so sure about how those relationships get started and sustained. At Horizons, we see mentoring is a natural part of the program.

When Josh, a college student who grew up in his local Horizons program from first grade through high school, looks back on his experience, certain people stand out – teachers, friends, and some he considers mentors.
One such person, Mike, was a high school student who volunteered with and tutored Josh's 4th grade Horizons class. Although Mike may not have realized it at first, to Josh, he was a mentor. "I looked up to Mike," Josh says. "He was really smart about everything, he really helped me with my math, and gave me life advice. He kept me encouraged."

The two stayed in touch as Josh grew up in the Horizons program. "I played football in high school," Josh says, "and you know who would show up for my games? Mike. Long after I was a little kid in his Horizons class, he was there. It meant the world to me that he showed up and supported me," Josh admits.

Mike himself is now a schoolteacher. And every summer, he comes back to teach at Horizons. "Catching up with my students reaffirms why I love teaching," he says. "It's these relationships I've been lucky enough to form that keep me coming back to Horizons every year and drive me to become a better teacher."

In essence, the way Horizons is set up – as a long-term support for low-income students, from pre-K through high school – makes these kinds of mentorships inevitable. Across the country, Horizons students come back summer after summer, and throughout the school year as well, to a dedicated learning community of teachers and volunteers who know their students and look out for them. Horizons enjoys high retention rates, around 80% annually, for both students and teachers, nurturing and sustaining mentorships over many years.

Horizons encourages all kinds of mentoring relationships:
Older students mentor younger students through summer "reading buddy" programs, and are matched with younger students for recess time
High school students have college mentors to help with the college search process, and academic coaches to help with studies and college admissions
High school aged alumni teach and volunteer in the six-week summer program and are constantly working with, and acting as role models for, the younger students
Public school teachers work along with private school teachers and become resources for each other
For host school students, the value of mentoring can be profound. Lily, a college student who first volunteered at Horizons at her independent school, puts it this way: "When you really hold a kid accountable and you show them that you care, I think that alone is enough to change someone's life. That alone is enough to make them want to work harder, enough to show them that they can do it. Instilling confidence is one of the greatest things Horizons does."

When Horizons students see all of these people – especially the teachers and volunteers – who have elected to be there, says Lily, "it shows the kids that we want you to achieve, and we want you to do really well in life. And it shows the kids that, 'okay, if they believe in me, then I should believe in myself.' I think that's one thing that Horizons is great at doing, at all different ages."

In its many forms, mentoring is alive and well at Horizons, and continues to evolve. We're now developing a junior board and an alumni network, with an eye on creating an organized system of support at the college level. Horizons students who have graduated from high school will be able to know if there are other Horizons grads at their college or university, or even in the same city, and connect with them.

Through supporting these relationships, Horizons continues to encourage mentorship, helping low-income students become active participants in discovering the joy of learning, the skills for success, and the inspiration to achieve their dreams.
---