Celebrating our AmeriCorps VISTA Members
Posted on
March 13-19 is AmeriCorps Week! This annual event is a time to recognize and celebrate all of the incredible things our AmeriCorps VISTA members have done to support the Horizons Network.
Horizons National has partnered with AmeriCorps VISTA since 2017, bringing VISTA Associates to Horizons sites and Horizons National to take on initiatives in marketing, fundraising, volunteer recruitment, partnership building, and more.
In the past 5 years, our VISTA program has expanded to include both Summer and Full-Year VISTA Associates, as well as an annual Horizons VISTA Retreat, and extended networking and professional development opportunities both during and after service.
Since 2017, Horizons has engaged over 45 Full-Year VISTA Associates and over 25 Summer VISTA Associates (including Horizons alumni and community members)!
In the past service year (2021-22), our current Horizons VISTA cohort has:
Served at 13 Horizons sites nationwide, and Horizons National

Brought in over $1.1 million to the Horizons Network in cash resources

Brought in over $96k in in-kind donations

Gathered in-person for the first Horizons VISTA Retreat in Atlanta, GA

Participated in a Horizons VISTA Alumni Panel, where past Horizons VISTAs shared about life after service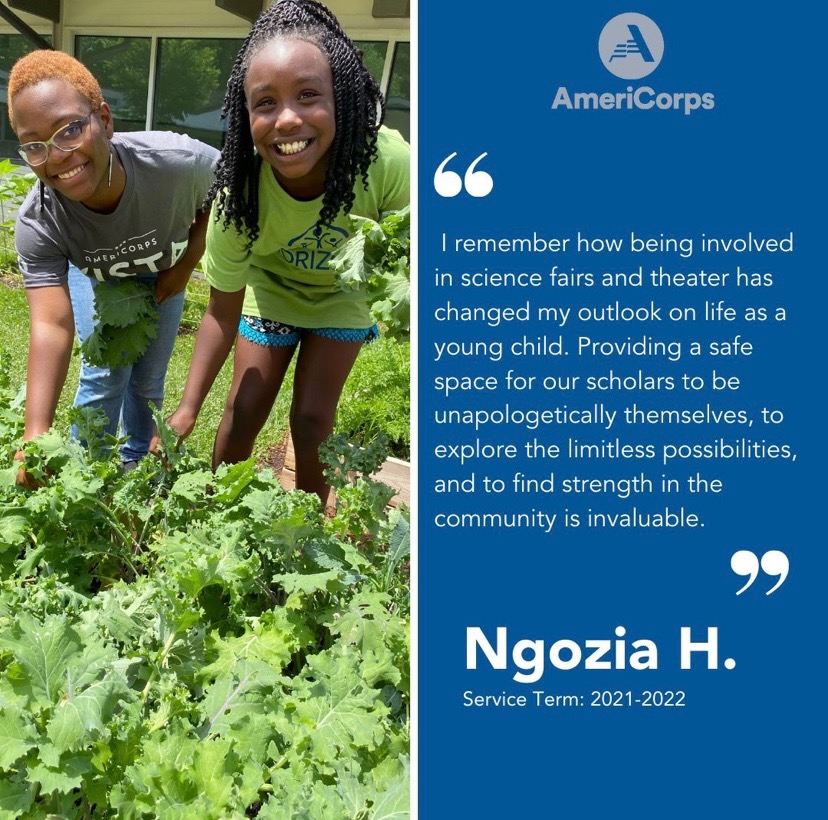 AmeriCorps VISTA Associate Ngozia shares why she serves with Horizons.
For nearly 5 years, our VISTA members have brought diverse perspectives, new ideas and strategies, and a passion for service to Horizons sites and Horizons National. We are so grateful to be continuing our partnership with AmeriCorps and recruiting for our next cohort of Horizons VISTA members (2022-23) - check out our open listings here!
To all our Horizons AmeriCorps VISTAs, past and present, THANK YOU for your service!
Back to Blog
---